Albuquerque Plumbers
It's 2020 and water is a precious resource; residents of Albuquerque NM, Rio Rancho, and Santa Fe, know this better than most. Our groundwater is an incredibly important source of drinking water, and at a time where most groundwater around the world is depleting, ours is rebounding. That's in part thanks to efforts by the Water Authority, and in part thanks to efforts by citizens like you. Plumbing is the key to great water management, and whether you're a homeowner or a business owner, DUB-L-EE is the plumbing company for you. We have years of experience in all kinds of different heating cooling plumbing projects, and we can help you install, repair, or replace your plumbing and fixtures, so you have a long-lasting system that makes sustainable water use possible. We're a family, locally owned business, started and operated right here in Albuquerque NM. In addition to serving Albuquerque, we also offer services for surrounding areas like Rio Rancho and Santa Fe, New Mexico.
Sewer Line Repairs & Replacement
Sewer Backups
Clogged Drains & Plugged Toilets
Water Leak Detection & Repairs
Water Heater Repairs & Replacement
Faucet, Sink and Toilet Repairs & Replacement
Garbage Disposal Repairs & Replacement
Sprinkler System Repairs
Septic System Repairs
Hot Taps
Hot Water Tanks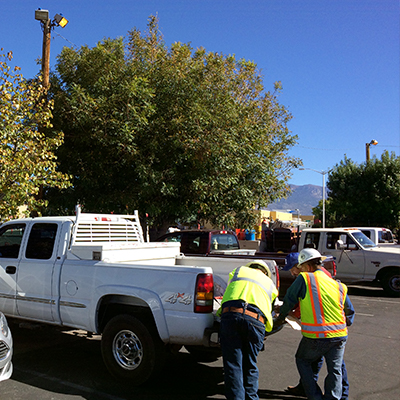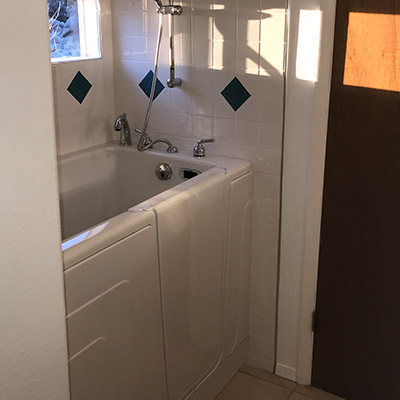 Utility Lines – Sewage and Water
Commercial Boilers
Commercial Water Heaters
PRocess Piping
Fixtures
Sewer and Water Lines
Clogged Drains & Toilets
Fixture Repair & Replacement
Leak Detection & Repairs
Hot Water Taps
Residential Albuquerque Plumbers New Mexico
You probably don't think of the plumbing services in your home all too often – and that's a good thing. When you are thinking about your plumbing, it's probably because there's a problem, or worse yet, you need emergency service. Bad times happen, and when they do, you can call DUB-L-EE to get courteous, professional, efficient service. Have a clogged toilet that just won't flush, or need a new air conditioning? We can help. Find all of your fixtures are draining slowly? We'll find the source of the problem and get it cleared up. Has it gotten so bad that there's sewage backup in your home? Whether you're connected to the city's sewer line or you have a septic tank, we'll get the problem cleared away and repaired for you.
We offer a variety of services and can repair all kinds of problems, from faulty sprinkler systems to broken garbage disposals. We can repair your water heater so you don't have to take cold showers, and we can replace that old shower that's giving you more of a drizzle than a downpour. In other words, if it's plumbing related, we can fix it. We can even detect leaks on your property and get them fixed, saving you money.
We don't just do repairs, either; we can install all kinds of plumbing heating cooling services in your home. From new plumbing heating and cooling installations to replace your old system, to new fixtures in a bathroom remodel or even air conditioning, we can help. Want a sprinkler system that's going to keep your yard looking lush, all while conserving water? We'll help you find the best one, and we'll get it installed. Want a new tankless water heater, or a high tech garbage disposal? When it comes to heating cooling we've got you covered. We can even connect your home to the city's water line.
We're a family-owned company, so we understand the importance of the home. It's your sanctuary, the place where you go to unwind, the spot with the most love in your world. We'll treat it with the respect it deserves. We service surrounding areas, like Rio Rancho, and Santa Fe. 
Commercial Albuquerque Plumbers New Mexico
Time is money, and spending has to be carefully planned and budgeted. You want to rely on a company that understands the needs of Albuquerque NM based businesses, one that's done a number of plumbing projects, and one with a track record of success. Rest assured you'll get our professional services and more when you choose DUB-L-EE; after all, we're an Albuquerque NM based business ourselves, so we know the city better than some multinational.
Running a business is all about cost-benefit analysis – you need to know what type of plumbing and fixtures are going to get you the best bang for your buck, over time. Our extensive knowledge of plumbing means we can crunch the numbers with you, finding the solutions that best fit you. Do you need a traditional tank water heater, or would a tankless solution work best? We can help you answer that question. What capacity should your boiler have, and how often should it be maintained? We'll figure out the best solution with you. No matter what you need installed, we can help.
One of the ways we can expedite the sewer repair process is through a technology called Perma-Lining. This allows us to line the sewer with a new inner pipe, instead of having to tear out the entire pipe to replace it, saving you money, and even more importantly – a lot of time. Worse comes to worst, we can repair or replace your sewer line in a more traditional way; we promise we'll get it done as quickly and efficiently as possible.
There's a number of other services we can offer your company, from preemptive leak prevention techniques to detect and stop possible leaks, to getting your business hooked up to the city's sewer and water lines. We can help you choose new fixtures and get them installed. We can repair or replace any defective fixtures or plumbing. We're your one-stop shop for all of your plumbing needs.
No matter who you are, what you do, or what your plumbing heating and cooling needs are, you can count on DUB-L-EE. A family owned, serving Albuquerque, Rio Rancho, and Santa Fe, New Mexico plumbing heating cooling company, we believe that your success is our success; you can count on us. Call us 24 7 and we will get back to you asap. After all, our customers are the most important aspect of our business.